To inquire about purchasing this piece, please call the Grant Berg gallery at (587) 259-6333.
Painting by Verna Vogel
Acrylic on canvas
Size: 10″ x 10″
Verna Vogel has been been a practising visual artist for several decades. She was born in Ontario and is currently based in Calgary, Alberta. Verna graduated with honours from the Studio Arts Foundation Program at Capilano University in Vancouver, BC. where she studied painting, sculpture, and print making. She then received an international study grant to attend the Malaysian Institute of Art (MIA) in Kuala Lumpur for a full calendar year. She completed MIA's third year Fine Arts Program with a focus on Chinese ink painting. Verna's art taps into the human experience beyond what is seen with one's eyes, allowing the viewer to self-reflect and experience her work in a more spiritual and metaphorical way. To create this experience, Verna currently composes all of her paintings with her eyes closed, relying on her body's spatial movements to create a balance of forms. Then with eyes open, she adds colour and depth to finish the work. Verna teaches art making processes with students in public and private schools, encouraging exploration and non-linear ways of seeing. She is also a Board member of the Alberta branch of CARFAC, which promotes and advocates for arts and culture across Canada. Teaching and arts advocacy are ways in which she hopes to contribute to a better, more balanced world.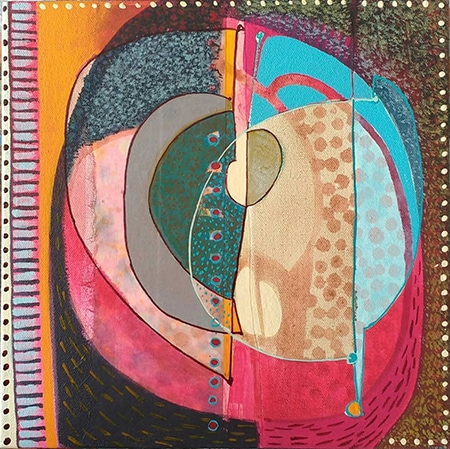 Other Works by Verna Vogel